Turn 1:
The Gathering of Magic
It was 1993. A new kind of game called Trading Card Game was invented and becoming popular. It was named Magic: The Gathering. There were quite few people who got hyped over it and it even reached the ears of magical community.
An expelled Slytherin Hogwarts student, named May Vooda, played it a lot. Then a thought occured to her: Why didn't she make one based on the real magical world itself? For 2 years, there had been strange things happened at Hogwarts involving a famous boy named Harry Potter. Sure it would make quite a profit if she made a Trading Card Game based on him. With that in her mind, she started working to make the cards. The first set of cards would be about Harry's early adventures. She was prepared to do anything, from Legilimency to stealing memories to get as much info as she wanted about Harry. After she was finished the making of a set, she casted Geminio on it so that it was mass-produced. Now, she was ready to market it in a place as far as possible from Hogwarts so that people there wouldn't notice that she took profit from it.
Some months later, a boy was window shopping at a magical card shop. He was an 10 year-old named Hadro Neptune. He wanted to buy a pack of Chocolate Frogs until he saw something new: A Harry Potter Trading Card Game. Being a fan of Harry Potter due to the story which he heard from his older brother who was studying at Hogwarts, he bought it without a second thought. After briefly reading the rules, he wanted to try it out. He stood at a corner of the shop waiting for another person to buy the cards, impatience of what new challenge would await him.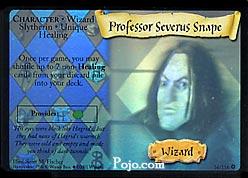 The Most Legendary Anti-Hero in Literature History