I was rereading DH and noticed something I didn't quite get to fit in.
Bill mentions that Shell Cottage is under the protection of a fidelius charm, and he himself is secret keeper. Remus confirms this when he brings the news of the arrival of baby Teddy, and says that Bill himself told shared the position of Shell Cottage with him. This is all cool.
What I don' understand is that Ron say he stayed there during his.. brake from Hermione and Harry. How can he have found the place without being told the secret by Bill? I do realise that Bill is his brother and may very well have told Ron before the trio left for their mission.
But then there's Dobby(may he rest in peace). RON told him to take Luna, Dean and Mr. Ollivander to Shell Cottage, and he managed even though Ron shouldn't be able to tell anyone how to get to SC, according to the laws of the charm. Doesn't it apply to house elves and other creatures?
And if it doesn't, isn't that a major flaw of the fidelius charm, as the masters then could send their house elf to do what they themselves cannot do because of the charm?
What am I missing here?
-- I thought i was posting this in the DH book's board, but obviously failed. And now it seems I am too stupid to figure out how to delete it or move it. Oh well.. --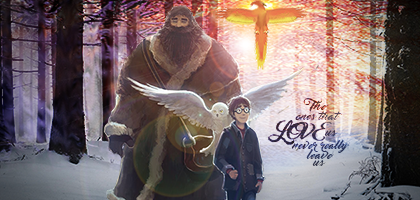 Hope I'm not too harsh, I love you all, really!